When growing a wide variety of plants, flowers, vegetables, and herbs, it can become difficult to name and remember the details of each plant. Plant tags can simplify things and improve efficiency. With over 20 years' experience in the barcode labels, tags and printing business, we not only sell plant tags, we also provide our clients with plant tag solutions to help them grow their business by being more efficient. Our newest addition to help you grow your business is the plant tags printing solution. This solution will help you tag and identify all your plants and seedlings. The high quality thermal transfer push in pot tags can be used for a variety of nursery needs such as to identify
Seeding trays
Pots
Tubes
Punnets and much more.
Plant Tags, Plant Labels, Plastic Tags, Plant Marker, Garden Signs, Nursery Tags. Call them what you will, but our plant tags are made from durable synthetic material and are ideal for printing with a thermal printer. We have designed and put together a cost effective solution to print plant tags. Our thermal tags and all in one printer ensures you can produce the best results to meet your requirements hassle free.
Plant Tag Features and Benefit
Watch in action!
Our premium plant tags lets you print a variety of identification information such as;
barcodes
dates
text
batch numbers
Unique sequential numbers for tracking batchas or individual plants.
And are available in
White
Pink
Yellow
Light blue colours.
They are rich in features such as
Waterproof
UV Resistant-They will not fade.
Durable
Insect proof
Easy to read
Size: 25mm x 130mm
Quantity per roll: 2000
Our plant tags are designed for outdoor use; anywhere where the conditions are wet or harsh and applications are demanding.
They can be beneficial when
Monitoring the growth by marking the date it was planted.
Creating a unique batch code or number for tracing.
Identifying plants that are available for sale or ones that are already sold.
Grouping plants according to type.
Growing food and reliant on others to harvest.
Plant tag printer features and benefits
Our Plant tag printer is specially designed and modified to print the thick, durable tags, ensuring good quality plant tags every time. It has a print resolution of 203 dpi (8 dots/mm) to meet the most diverse requirements. This next generation of smart printer is a durable, reliable standalone printing solution.
Optional WiFi
Rugged Industrial Design
Suitable for Batch Printing
Easy media loading
Full colour interactive LCD display.
Intuitive menu navigation
Multi-national Language Support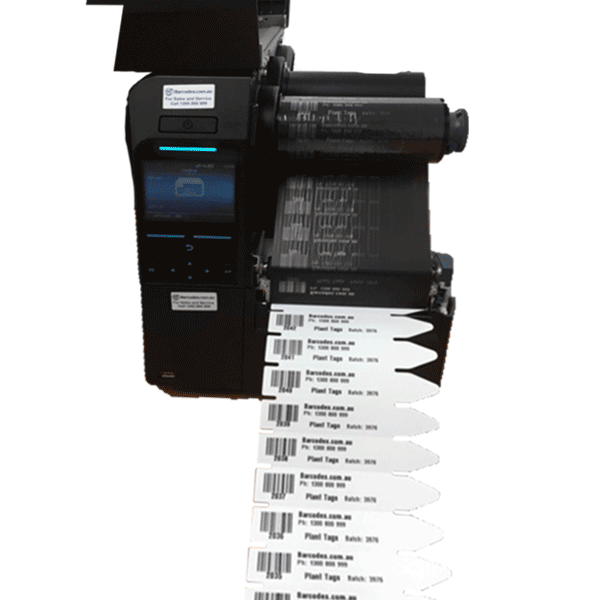 Our Plant tag printing solution is ideal for agriculture such as gardens, greenhouses, nurseries and food industries. At barcodes.com.au we only stock the best brands that have been extensively tested over many years, to ensure consistently high quality plant tags. Our understanding of the end application is second to none, giving you confidence that the plant tags you receive are ready for the task, meet your expectations and assurance you have the right plant tags for your requirements. If you need more information, call 1300 800 999 and out friendly staff will assist you.