Barcode label printing software allows businesses to keep their label printing in house reducing the cost and streamlining processes. Seagull Scientific Bartender labelling software is the leading label and barcode printing software which allows users to create address labels, product description labels, shipping labels, barcode labels and also create cards and RFID Tags. The barcode labels can be as basic as static labels or can allow the user to add variables such as serial numbers, artwork, logos, or even integrate with a database or spreadsheet. BarTender label software has the tools to easily and efficiently design labels and templates, configure and connect to data sources and business systems, and launch print commands from any system, OS or device. This software can automate printing, monitor print status and supplies, and streamline production while providing complete and secure control of the printing process. For barcode label printing in a windows OS, no software is faster, easier or more flexible than Bartender label Software.
Features of BarTender Software at a glance
Label design and printing.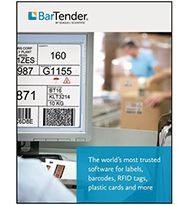 WYSIWYG display.
Windows printer Drivers.
1D or 2D barcodes.
Direct thermal, thermal Transfer, Laser and Ink-Jet printer support.
Easy integration with other applications.
A variety of pre-designed, modifiable label formats.
Easy to add graphics.
Available in a network environment.
Click here or on the image for the Bartender 30 day Free Trial which includes all the features.
BarTender Software Editions
BarTender is easy to use, easy to integrate with existing databases and with four editions delivering a remarkable range of features, there's a BarTender to satisfy every need and budget and it is easy to upgrade as you needs and business expand.
This powerful entry level edition incorporates BarTender's clever wizards, professional templates and the ability to design your own data entry forms. It delivers the most important core label design features and includes all text, graphics and 1D and 2D bar code support. Supports simple, numeric serialization. Useful for keyboard-supplied label data only. It comes with a single user license which can print to any windows-compatible printer.
A great choice for individuals and smaller organisations.
Design labels and cards quickly using flexible fonts, graphics and barcodes.

Include serial numbers and sequence in your label, tag or card.

Optimize print speed to any printer or marking device.

Licenced per PC.
BarTender Professional builds on the Bartender Basic software platform and is suitable for small to medium companies. You can use excel files and various database files in this edition. It also supports RFID tags and labels as well as enhance imported images such as adjust brightness, contrast, saturation and cropping. It is fully network compatible via one user.
Able to link and read data from databases, spreadsheets and CSV files.

Effortless RFID encoding.

High performance image manipulation.

License per PC.
It includes all the features from the professional edition and has the capability to include integration features for automated control by other software and is the perfect addition to a majority of businesses. The Automation Edition is licensed on a 'per-printer basis' - allowing the software to be installed on as many computers as required. It has conditional printing which means that you are able to create a wide variety of labels from a single design without the need to maintain a separate document for each label. It can manage more complex printing scenarios by telling templates, layers, and individual objects when to print based on a single data source or database fields.
It also has the ability to lock mandatory content so it cannot be changed by other designers and to print content to specific panels of security cards, including monochrome black, UV fluorescing, and overlay panels.
Network license suits multiple users.

Designed using intelligent templates to reduce maintenance.

Intelligent templates offer flexibility and control.

Launch printing from other programmes.

Secure the printing environment with user and group roles.

Licensed per printer.
EditionEnterprise Automation edition is the most sophisticated edition. It includes advanced server functions for centralised design, print and management of barcodes and RFID encoded labels, tags and cards. This edition is designed for businesses that require complete connectivity and control of their printing environment.
Complete connectivity and control of printing.

Powerful ERP integration including SAP and Oracle.

Centralised control of printing, security and administration.

Allows mobile device users to print from web browsers.

License per printer
BarTender software enables organisations around the world to improve safety, security, efficiency and compliance by helping create and automate the printing and control of labels, barcodes, RFID tags. Some of the world's largest companies and hundreds of thousands of small businesses rely on the BarTender software because it is the perfect solution for almost any on demand printing requirements. It covers chemical labelling, food labelling, marking medical devices, pharmaceutical labelling, supply chain and much more. With several editions of BarTender Seagull software to choose from, you're likely to find a cost-effective edition of BarTender for your company's size and label printing requirements.
For Bartender FAQs and tutorial videos, please visit our FAQ page.
Click here to read additional information about each Bartender Version.