A radio frequency identification (RFID) device serves the same purpose as a barcode or a magnetic strip on the back of a credit card. It provides a unique identifier for the project. This method utilizes radio waves to transfer data between the RFID reader and the tags that's embedded in the product. RFID technology allows you to advance your business to a new level of efficiency by providing greater visibility into your inventory.
Technology solutions UK Limited specialises in manufacturing and developing RFID reader and other mobile device peripherals used to identify and track products. For two decades they have delivered innovative, Bluetooth compatible RFID products and mobile technology solutions to over 500 companies around the world. They work with a worldwide network of distributors to offer data capture solutions for a variety of applications such as supply chain management, stock inventory control, and ticketing and data management.
RFID readers can be broken down by the frequency band within which they operate.
High Frequency
The high frequency ranges from 3 to 30 MHz. Most High frequency RFID readers operate between 10 cm to 1 metre. HF RFID readers are commonly used for ticketing, payment, data transfer applications, library books, healthcare patients etc. They also work well with metals and liquids.
Ultra-High Frequency
The latest standard in passive RFID is Ultra high frequency. The UHF frequency band covers the range from 300 MHz to 3 GHz. Systems complying with the UHF Gen2 standard for RFID use the 860 to 960 MHz band. The read range can be as long as 12 metres. UHF has faster data transfer rate than HF. It also supports multiple tag reading. This standard is widely used among retail inventory management, pharmaceutical anti-counterfeiting.
Below is a list of high frequency and Ultra high frequency RFID readers Technology Solutions Limited have developed.
1166 Bluetooth Rugged UHF RFID Reader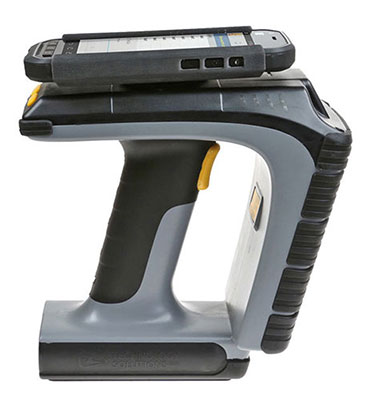 166 Bluetooth rugged ultra-high frequency RFID reader provides high performance RFID reading and writing with all host devices. Its highly resistant to water, dust and mechanical trauma. A range of optional barcode scanners can be specified to provide 2D data capture at distances up to 15m. The high capacity battery of the 1166 RFID reader enables non-stop operation of the reader over the full working day. Use standalone or device can be mounted on top of the reader using an easy press-lock adapter to provide a one-piece solution. It operates with Android, "iOS" and Windows.

1153 Bluetooth Wearable UHF RFID Reader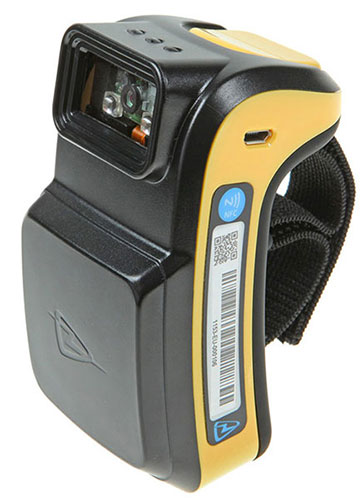 1153 Bluetooth wearable reader is designed to read and write EPC class 1 gen 2 (ISO18000-6C) UHF transponders and communicate with a variety of host devices via Bluetooth wireless technology. This reader is optimized for low power consumption whilst still providing excellent performance in a small and convenient form factor. The wearable UHF RFID reader includes class leading high performance 2D barcode data scanning to bring data connection capabilities to connected devices. Its compatible with Bluetooth enabled host devices including enterprise handhelds, consumer phones, tablets and PCs. It operates with Android, "iOS" and Windows.


1128 Bluetooth UHF RFID Reader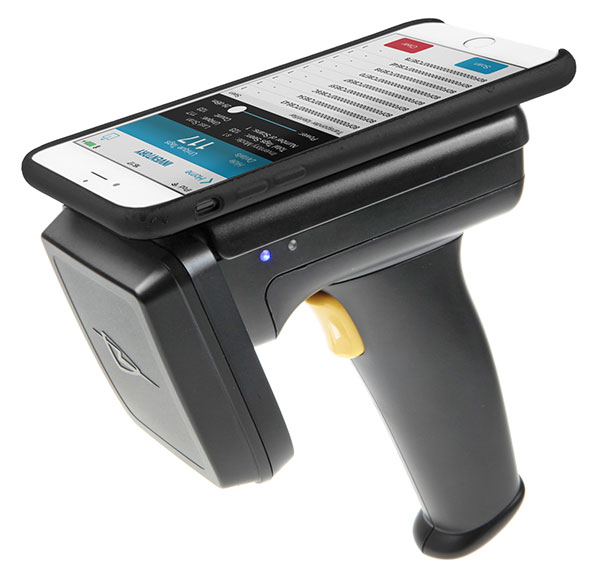 1128 Bluetooth UHF RFID reader is designed to read and write to EPC class 1 Gen 2 (ISO18000-6C) UHF transponders and communicate with host devices via Bluetooth. With its Impinj R2000 core and range of interchangeable high performance antennas this performs like no other reader, giving the user the highest levels of flexibility currently available in today's market. The 1128 RFID reader can be configured with high performance 2D barcode scanners to bring unparalleled data collection capabilities to connected devices. It operates with Android, "iOS", and Windows. This Reader is also compatible with Bluetooth enabled host devices such as mobile phones, tablets and PCs.
1062 Bluetooth HF RFID & Barcode Scanner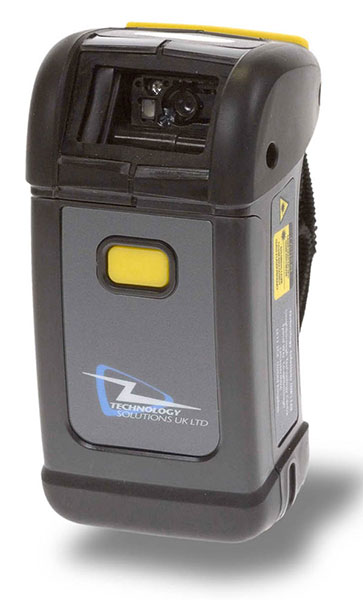 This compact, Bluetooth dual technology 1062 High frequency Bluetooth reader can also be used as a compact, battery operated laser barcode scanner that communicates wirelessly with a host computer. This hand scanner is compatible with devices running Windows. The Bluetooth enables the operator to use the scanner up to 100m from the host computer. This scanner has audible, visual and vibrator indication of a read. It incorporates a 1D laser scanner for reading barcodes. The combination of dual technology scanner also provides the ability to read and write to ISO15693 13.56MHz high frequency smart tags.
Radio Frequency Identification technology has the capacity to enhance and protect the lives of consumers. It is flexible, low cost solution, making its use appealing to a wide range of industries ranging from retail, healthcare, manufacturing, entertainment and hospitality. The technology is now starting to be used in hospitals and law offices. RFID technology points to a future where identification and sensing could become present in every object in a user environment. Businesses that currently use barcode technology are good candidates for upgrading to a system that uses RFID or a combination of the two.