With the end of financial year approaching, most of the companies are preparing for their annual stocktake. A stocktake is a physical count of business inventory on hand and provides a business with an accurate reflection of stock held. Conducting regular stocktakes not only allow business owners to be proactive on stock but also increase their business bottom line.
Regular stocktaking is a vital element of a loss minimisation strategy in a business. The process helps to compare actual stock levels with the stock levels based on ordering records. There are many electronic and manual methods to perform a stocktake. Whichever the system you choose to use needs to be comprehensive and collect accurate data if it's to be of any value.
Often the effectiveness of the stocktaking process can influence the accuracy of information it produces. This may lead to a situation where it appears that there are stock losses when actually the missing stock has simply been overlooked. This type of problem would indicate either the need for staff training or the current stock tracking method needs to be reviewed.
Count my carton stocktake Solution
Count my cartonsis a simple yet effective stock counting process. Via Excel Spreadsheets users can interface with any existing system to perform real time stocktakes with or without barcode scanning via any device with internet connection. A full stocktake of inventory in your system with countmycartons.com can be performed in 4 simple steps.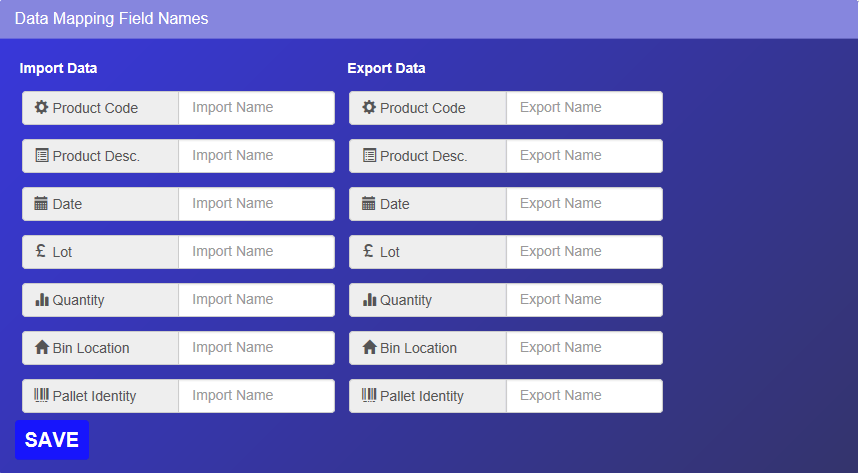 1.Map your system to countmycartons.com.
The data mapping needs to be set up so that the data heading from the import file matches the correct categories in count my cartons. Data mapping must be done for both the import file heading and the export file heading.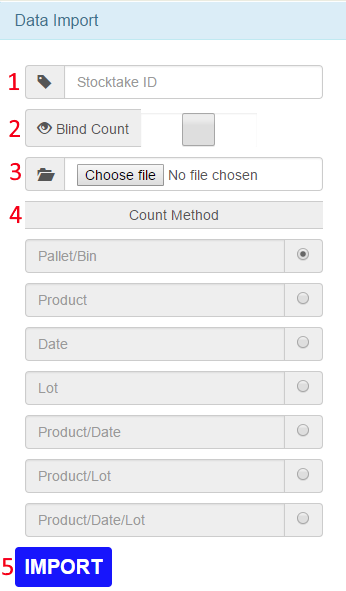 2.Import your stock file to countmycartons.com.
Import data is used to build a stocktake. There are two types of stocktakes that can be set up .
Verifiable Count: this requires data to be imported from an external .xls or .xlsx file. Counts will then be performed against each record in the file.
Blind Count : No data is imported and stock is simply counted as it's found.
3.Count your stock.
Count progress report is used to keep track of the current status of a given stocktake. It will let you know what is counted, what is not counted, variance quantities, pallet information and option to recount an item.
4.Export results back to your system.
Data export is used to produce a Microsoft excel file of any given stocktake. Simply enter the stocktake ID and click the export button. An excel file will be generated.
Mapping, importing and exporting can be performed within seconds, therefore maximising time spent on the most important aspect of any stocktake - accurate counting.
Tips for a successful stocktake
Plan ahead-Before you commence have a full understanding of the resources and the time needed. This will reduce the level of interruption to the business and make sure things can run smoothly.
Organise Staff-It can be beneficial to get the staff involved in a stocktaking procedure as it will help them gain knowledge about the importance of doing regular stocktake.
Limit noise and conversations -Distraction from co-workers, mobile phones, Ipods or having the radio playing in the background can all lead to staff making critical errors.
Know what needs to be counted -Before the stocktake is commenced, you should know all the stock that's owned by the business and where stock is held. Also it's vital to exclude stock that has been invoiced to customers, but not yet dispatched and stock that's received but not yet recorded in the system. Mark any items counted to avoid duplications. Staff should also be mindful of the slow moving, damaged or superseded stock so they can be valued at a discounted price or removed from the stock count completely.
Value your stock-Once you have counted the stock it is also important to review price list to ensure you have the most up to date prices for the stocktake and that all the recent price change has been taken into account.
Get value for your stock -Now that the stock has been counted and priced it is important to get the best value from the information gathered. By going through the stock levels and stock requirements you can easily identify and monitor slow moving stock, profitable stock and possible theft which may be occurring within your business. Carrying too much stock or not having sufficient stock to meet your customer demands can have a negative impact on the profitability of your business.
Having a precise understanding of the number of stock items the business owns, allows you to reconcile physical stock to the inventory records, highlight variances and identity issues with stock management and control. There's a lot of advantages in conducting a regular stocktake for your business. Such as, cash flow can be improved by identifying slow moving stock and reducing the levels of such stock. Regular stocktake also enable you to monitor profit margins across a range of products, it helps business owners to see what stock moves quickly and reorder them in a timely manner to reduce back orders, finally having a better understanding of your stock will enable you to minimise waste and will help you to identify if there's any problem with theft. It plays a key role in improving customer service and efficiency in your business with employees who always know where exactly what stock is available. A successful stocktake doesn't have to interrupt your business and will give you the precise facts you need to make better operational decisions.