BarTender® by Seagull Scientific Named to the Food Logistics 2016 FL100+ Top Software and Technology List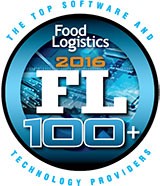 Leading B2B Publication Recognizes BarTender for the Third Year in a Row
Food Logistics, the only publication exclusively dedicated to covering the movement of product through the global food supply chain, has named BarTender by Seagull Scientific to its 2016 FL100+ Top Software and Technology Providers list.
The FL100+ Top Software and Technology Providers list serves as a resource guide of software and technology providers whose products and services are critical for companies in the global food and beverage supply chain.
"This is the third straight year BarTender has been included in the Food Logistics FL100+," said Harold Boe, President and CEO of Seagull Scientific. "It's a great honor to be recognized as a technology leader and especially for our company's commitment to enabling a safer global food supply and demand chain.
"BarTender has become an integral component of the compliance, traceability and supply chain labeling strategies of the world's food producers, logistics providers and manufacturers" said Boe. "We're committed to understanding the regulatory and supply chain pressures of food production and processing, and enabling industry compliance with food safety standards."
"The software and technology sector continues to generate new and exciting opportunities for growers, food manufacturers, grocery retailers and the many logistics providers that support them," notes Lara L. Sowinski, editorial director at Food Logistics. "Today's cloud-based solutions and mobile connectivity are helping create tools that are more flexible, affordable and responsive, making software and technology even more valuable to those in the global food supply chain."
Companies on this year's 2016 FL100+ Top Software and Technology Providers list will be profiled in the November/December 2016 issue of Food Logistics, as well as online at www.foodlogistics.com.
About Food Logistics
Food Logistics is published by AC Business Media, a business-to-business media company that provides targeted content and comprehensive, integrated advertising and promotion opportunities for some of the world's most recognized B2B brands. Its diverse portfolio serves the construction, logistics, supply chain and other industries with print, digital and custom products, events and social media.
About Seagull Scientific
BarTender software by Seagull Scientific enables organizations around the world to improve safety, security, efficiency and compliance by creating and automating labels, barcodes, RFID tags, plastic cards and more. Hundreds of thousands of companies in manufacturing, chemicals, healthcare, food and beverage, aerospace, pharmaceuticals, supply chain/logistics and other industries trust BarTender with the labeling and marking processes that keep their businesses running. With corporate headquarters and software development in Bellevue, Washington, USA, and branch offices in Madrid, Taipei and Tokyo, BarTender is available in more than 150 countries through a global network of local partners.